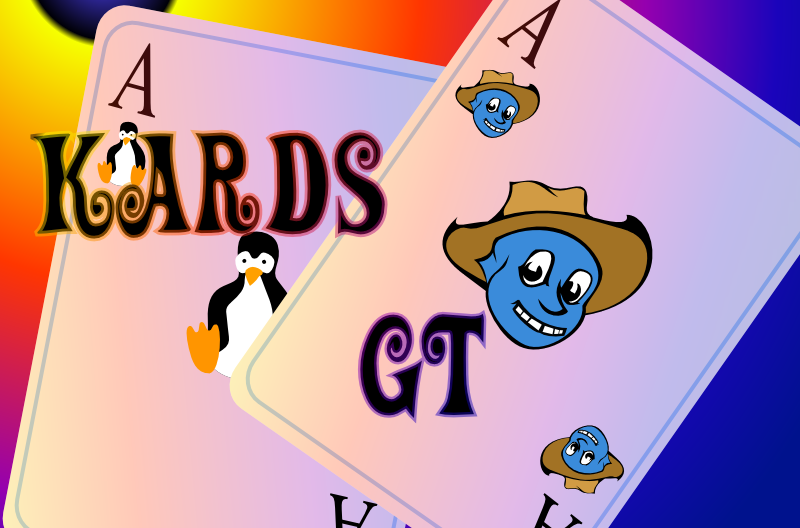 KardsGT — You're Now Free to Play
KardsGT is a free sourced card game suite. We want to bring an immersing card game environment to the free sourced world. It is currently in a beta-level of development. Despite that, it is quite playable.

If you want to download the game, join one of our user mailing list, check the latest news, report a bug, read our documentation, or even request a feature, then please see our Development Site . If you are interested in what the game looks like; we have screen shots of the current release. For how our project works, or even how to join see our policy section. If you want more information on what our project is about, read on. If you would like to talk with some of the developers and users of KardsGT, join us on Freenode in the KardsGT channel.
Current Features
The following are the general features:
Graphical base library
Card logic base library
Basic player AI library
The following are the games:
Crazy Eights
Cribbage
Euchre
Hearts
Old Maid
Spades
War
The following are the players:
Abigail
Jack
Norman
Sally
Wally
Project Goals
Here are the ideas, in no particular order:
Add many of the "standard" card games — Started
Have opponents that each have individual personalities — Started
Each AI has its voice, look, & play style — Started
Possibly have all the graphics done in 3-D, a little bit more realism — Not Started
Have a way of designing your own deck of cards — Started
Have a way of creating yourself — Started
Have your background be personalised — Not Started
Have the game connect to a lobby so we can play against each other over a network — Not Started
Each player will see the customised opponent — Started
The lobby will be able to track user stats — Not Started
Try to prevent a user from cheating by modifying the source code — Started
Convert application to KDE 4 — Not Started
Road Map
Here is the current direction we're heading for KardsGT. Not everything may get done by the target release date. This is only our tentative schedule.
Version 0.8
Release Objectives:
Rummy
Generic card classes.
Dynamic loading of card games.
Development Phase Time-line
| | | |
| --- | --- | --- |
| Phase | Target Date | Actual Date |
| Planning | 17 Aug 08 | 17 Aug 08 |
| Feature Freeze | 24 Aug 08 | 26 Aug 08 |
| Code Freeze | 14 Jun 09 | |
| Release Candidates | 17 Jun 09 | |
| Documentation | 21 Jun 09 | |
---

© 2005 - 2009 by John Schneiderman, released under the
GNU FDL
.
Last Updated: 17 May 2009